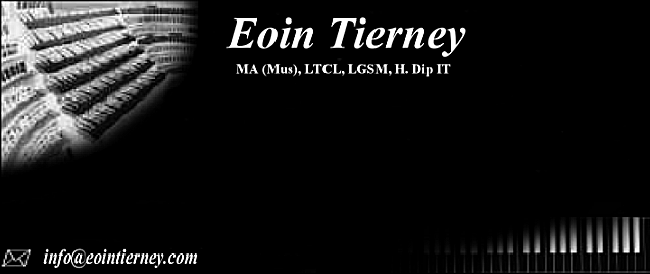 <![if !vml]>
<![endif]><![if !vml]>

<![endif]>

Weddings
Carefully chosen music can really add a personal touch to your wedding. I always take time to meet couples to work out what means most to them, and to offer my own suggestions. I am always available to meet, or to contact via email or phone.
I have a very large repertoire and am very comfortable with any style of music. As a soloist I have played anything from Widor's 'Toccata in F' to the main theme from 'Star Wars!' Of course not all songs / pieces are suitable for a church but I can guide you through many alternatives if necessary. Some couples opt for solo organ with no singer, this is no problem - there are many beautiful classical, Irish or contemporary pieces which can be played successfully on organ.
All styles and tastes are catered for - I can get you any type of singer (classical, folk, male, female) or instrumentalist (flute, violin, recorder, harp, guitar, quartet etc) at a moments notice.
I am mainly based in Iona Road Church, Glasnevin, and Mater Dei Chapel, Drumcondra. I do travel around Ireland for weddings but I always ask the bride or groom to clear it with the resident organist first, if there is one.
If there is no organ, that's no problem - I have a fully equipped keyboard and amplifiers.